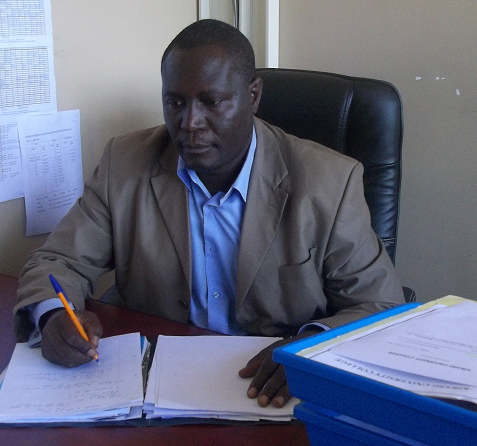 Welcome!
Hello, I'm Prof. Franklin Wabwoba. As dean of the Kibabii University, School of Computing and Informatics (SCAI), I can assure you, if you're interested in exploring and applying Information Technology or Computer Science, you have come to the right place. With a rare combination of top scholars, an international footprint and multidisciplinary opportunities, Kibabii University is making itself known as a global leader in Information Technology education and research.
Here you'll learn to think logically, deal with uncertainty and change, work with technology in a socially and environmentally responsible manner, communicate effectively and collaborate with other bright students, all within a supportive community to fulfill the motto of the university of "Education for development" and above all the school's motto " Computing, ICT knowledge and skills for development". Your student experience will be enhanced by experiences of hands on work and interaction with the industry.
If you're enrolling as a graduate student, you probably know that the Kibabii University is one of the nation's premier research universities in the field of Information Technology. Interacting with world-renowned scholars and adjunct lecturers from the Industry, you may work on solutions that make an impact at the nanoscale or the cosmic scale.
Students pursuing computing careers at Kibabii look forward to promising futures. If you're seeking a career in computer Science or Information Technology or Computing Education you'll find a degree in that field at Kibabii University which is an excellent foundation. With faculty support, many students are headed to convert research projects into commercial products and their own successful companies.
Our shared commitment to democracy, diversity, and social justice means that the problems we take up are motivated by the need to address profound inequities in today's schools. Within the SCAI community, we are proud of our cross-campus collaborations with the School of Business and Economics, Faculty of Education and social sciences and Faculty of Science. We are designing new learning environments and new technologies in the classrooms and in after-school programs through partnering with policymakers and industry to provide rigorous investigations of policy intentions and their actual effects on Computing professionals and students. We are dedicated to preparing the next generation of computer science and Information Technology specialists who have the passion and knowledge to improve learning ICT experiences for the industry.
While many invest in advertising, we invest in the product. SCAI will provide you with more than a superior technological education. Welcome to the global centre of excellence in harnessing and disseminating Computing, ICT knowledge and skills for development.