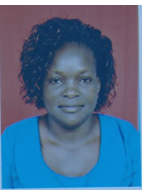 Ms. Dorcus Ashley Shisoka
Chairperson
Department of Computer Science
1. INTRODUCTION
The Computer Science Department was organized in 2012, as one of the flagship programs for Kibabii University besides Information technology. At the moment the department is serviced with up-to twelve members, four being full-time. Computer Science is a discipline that involves the understanding and design of computers and computational processes. In its most general form it is concerned with the understanding of information transfer and transformation. Particular interest is placed on making processes efficient and endowing them with some form of intelligence. The discipline ranges from theoretical studies of algorithms to practical problems of implementation in terms of computational hardware and software.
The computer science curriculum offered reflects the multidisciplinary nature of science, and contains diverse courses ranging from basic physical sciences to applied courses in mathematics, physics, communication, information technology, business and management, economics and social science. The curriculum encourages the student to acquire the important skills of self-directed learning, problem solving and effective communication. The graduate is expected to be proficient in a variety of settings, which shall include management of computer information or systems, teaching and undertaking research activities.
Our excellence is embodied in our students. This department is a haven to a vast number of innovators. Our students exercise an unmatched knowledge and have a passion for innovation besides exemplarily showing strong working ethics. We believe that after graduation from our department they'll be highly suited for the current market.
2. OBJECTIVES
General Objectives
At the completion of the prescribed course, the graduate will be able to:
Meet the ever increasing demand of trained personnel in computer science in various fields
Have adequate knowledge and skills so as to be able to work independently as Computer Hard ware and Software specialists
Participate in research and development of ICT
Take up employment in computer industry, research institutions or any other relevant private and public sectors
Specific Objectives
Apply the process of critical reasoning in managing computer systems and information
Venture in to entrepreneurship and marketing
Capture process and disseminate information
Maintain the highest professional standards in Computer Science
Contribute actively in the industrialization process of the Nation of Kenya
Adapt to, participate in and act as agents of change in this age of information and Communication technology.
Effectively plan,supervise and mobilize human, financial and capital for efficient achievement of the goals of organizations that deal with Computing
Identify community needs and offer advisory and outreach services.
3. ADMISSION REQUIREMENTS
1. Candidates with the following qualifications are eligible for admission:
Candidates with a mean grade of C+at K.C.S.E or equivalent with a minimum grade of C+ in each of the subjects in either of the subject groupings listed below
Alternative A Alternative B Mathematics, Mathematics, Physics, Computer Studies, Chemistry and Physics
Or
Candidates who have successfully completed a relevant diploma course recognized by the University and have attained a distinction or a credit with at least 2 years of field or research experience.
4. PROGRAM DURATION
The duration of the program shall normally be four academic years, unless the School Board approves exemption.
Students shall be expected to choose a specialization area at the beginning of third year. In third and fourth year, the students shall be expected to take the prescribed compulsory core courses together with electives in their specialization areas.
In addition to the normal semesters, there are Industrial training and attachment programs at selected industrial or educational establishments. These programs are at the end of second year and third year respectively.
5. EXAMINATIONS
The University Common Rules and Regulations for undergraduate Examinations shall apply.
We take this opportunity to tell you what we are all about. And if you haven't already joined us, please plan to visit us in person to see for yourself the exciting confluence of bright minds, a beautiful climate, wonderful teaching and ground- breaking research!